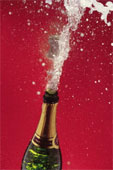 I would like to apologize for the long gap between blog entries recently. December was an extremely active month on both personal and business fronts. The holidays are always crammed with personal functions, but the last month of the year is usually not a very busy time for aircraft sales. In fact, I usually take some time off during the holidays to recharge my batteries for the next year. This year, I did not get that luxury.
Both Christmas and New Years were well placed on the calendar this year, so we did at least get a couple of three day weekends. But I found myself shuffling emails back and forth on my blackberry until 9:00 pm on New Year's Eve in order to book one last transaction as a 2009 deal. I am still working on the art of responding to these emails without interrupting the festivities of those around me. My wife is used to it by now, but others find it strange that these deals would come together at such inconvenient times. The stranger thing is that it seems deals will always come together at inconvenient times – I don't know if that is part of Murphy's Law, or there are some other strange forces at play there; might need to look into that as a future topic.
Moving on – December was extremely active; so far January does not seem to be letting up. We have already received numerous offers from several different prospects in 2010, and we are less than a week in. JBA Listings that seem to be generating the most interest right now are a Citation VII, Challenger 3A and a G-450. In fact, after being unable to generate any interest in some of these markets last month, we've now had to dust off our policies for responding to multiple offers received on an airplane on the same day.
Although we do not currently have a G-550 listing, I do have to draw attention to the significant activity in that market over the last several weeks. That market has moved from a peak inventory level of 31 units last spring to only a handful of choices on the market today. The manufacturer has raised their list price back to $58M and I am told they do not have any units that deliver until 2012. There are a few used aircraft and future delivery positions on the used market that seem to represent a good value compared to OEM pricing, but pricing is rising rapidly.
I know the problems with our economy are still very apparent on Main Street, but it seems that those with the means are seeing a lot of value in today's aircraft pricing. Although I did not get to recharge my batteries like usual, after the difficult times of 2008 and first half of 2009, I am not complaining about the surge in activity of late. I will take the activity and excitement of this January over last January's fear and dread any day. Just remember, one year ago the Dow was at 8,500 and falling and the Auto execs hadn't even made their fateful flight to D.C. yet. Today, the Dow is at 10,500 and climbing and corporate aviation doesn't seem to be a bad word anymore.
Here is to a happy and healthy 2010 for corporate aviation!
Toby J. Smith
Vice President
JBA Aviation, Inc.
918-834-9100
toby.smith@jba.aero