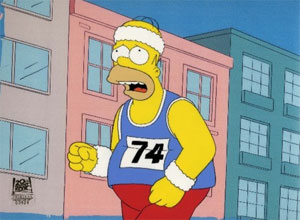 I am a runner.  I started running when I was in the 5th grade, ran all through grade school and continue to enjoy running today.  Now that the weather has started to turn here in Oklahoma, the morning runs have become very pleasant.  The cooler air means I can run a bit further and a bit faster and don't have to worry quite as much about hydration.  The fall is by far the best season to run in this part of the country.
Right now I am healthy, but this summer I developed an overuse injury.  Nothing major, just enough to sideline me from running for several weeks.  It was very frustrating because I had some rather lofty goals for 2009, but there was nothing I could do.  I listened to my doctor who prescribed rest, ice & stretching.  About the time my doctor said my injury should be healing, it did and I was back to running again.
However, I could not jump right back into the training I had been doing before I got injured.  Up to that point I had been running 4 days a week totaling about 40 miles or so.  In order to avoid re-aggravating my injury, once I was cleared to run I could only run 3-5 miles at a time.  So, rather than focusing on distance I focused on frequency.  I ran everyday, a little at a time.  I had to get my body used to running again and it seems our musculoskeletal system adapts better if you do a little bit every day rather longer runs spread farther apart.
In a similar fashion, I would say that the aircraft resale industry suffered a rather debilitating injury this time last year.  It seemed as if the rules for buying and selling aircraft changed overnight and we were all scrambling to get a copy of the new manual.  No matter how motivated a seller might have been there were some aircraft that just weren't sellable at any price.  In hind sight, we should probably have consulted our doctors and just "stayed off the leg for a while".
This summer a funny thing happened.  Offers were starting to circulate again.  Negotiations were very difficult at first because everyone was still trying to figure out the rules of the new game and we were afraid that our previous injuries might flare up again.  But, with each new deal we have worked on, I am feeling a little better and a little bolder and things are getting back to some semblance of normalcy.  I guess it's just the nature of things.  If you push things beyond their breaking point, there will be a backlash and you have to work back slowly.
NBAA will likely be the first chance we all have to open up our gaits just a bit.  Nobody should plan on going to Orlando to set a new PR (personal record for you non-runners), but it will be good to shake some hands and share some stories of successful negotiations over the last few months.  I for one will be bringing my running shoes to Orlando.  With few OEM parties this year, I will likely be getting to bed at a reasonable hour and can hopefully put in a few miles before the day starts without the post-party hangover.
Hope to see several of you out on the trails and at the show.
Toby J. Smith
Vice President
JBA Aviation, Inc.
918-834-9100
toby.smith@jba.aero